What Does Malware Mean
21 Oct, 2022
423 Views





(
1
votes, average:
5.00
out of 5)

Loading...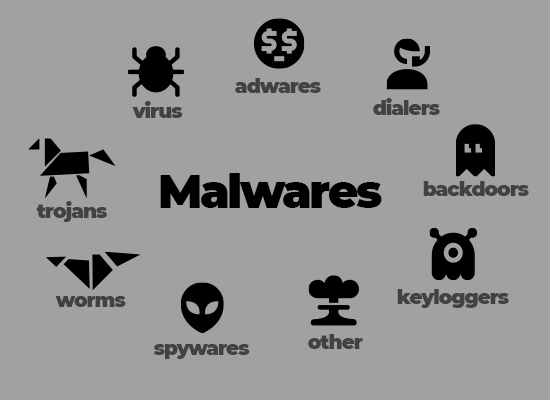 Malware refers to any malicious software that is intended to cause damage or operational disruption to the host computer. It may also be used to steal personal or professional information by bypassing access controls in the host computer.
There are many different types of malware in existence. Some of the common forms of malware are worms, viruses, trojans, spyware, adware, and rootkits, etc., which can attack and damage, disable, or disrupt host computers and networks.
Zero-day Malware
Zero-day malware is designed by hackers who have taken advantage of a previously unknown vulnerability in the host systems or applications.
Hackers design zero-day malware to target a specific security flaw (zero-day vulnerability) in a software application or host system and then use that malware to compromise the host system or cause unusual behaviors to occur on the software.
The infamous WannaCry attack which disrupted several organizations and forced many to shut down operations is an ideal example of the security risks posed by zero-day malware.
Malware Can Disrupt IT Operations
Malware not only pose a variety of security risks to computer assets, such as disrupting computer operations, gathering sensitive information, etc., they can also disrupt entire IT operations of an organization.
New variants. New tactics. Malware is still dominating the world of IT and cybersecurity. Not only have we seen an increase in malware attacks on organizations demanding more money, but the level of sophistication in that malware has also increased, as well.
BYOD (Bring Your Own Device) policies implemented by organizations are exposing the IT infrastructure to new and more powerful types of malware. The traditional security solutions used by IT organizations were designed to protect the computers and network of that organization, not the personal smartphones and tablets that employees bring to the workplace today.
With BYOD and malware attacks both increasing, there is a dire need for organizations to address security with advanced tools. Managing BYOD devices is not an easy task. A standalone security solution won't be sufficient in this scenario since the security perimeters tend to be undefinable and ever-changing in case of BYOD. This is where Xcitium Advanced Endpoint Protection comes into play by providing centralized security measures with additional layers of protection at endpoints.
Xcitium Advanced Endpoint Protection comes with antimalware, antivirus, firewall, Host Intrusion Prevention System (HIPS) software package and containment engine that prevents malware attacks by examining and sandboxing suspicious apps and processes. It helps IT admins to maintain greater control over all endpoints and also helps block threats effectively.
Xcitium Advanced Endpoint Protection is the only endpoint security solution that provides hour-zero auto-containment technology by isolating all unknown file types including zero-day malware while keeping confidentiality, integrity, and availability in context, all without compromising performance or productivity.
If you are interested in Xcitium Advanced Endpoint Protection, contact us at EnterpriseSolutions@Xcitium.com or +1 888-256-2608.
Related Sources:
Endpoint Detection
Endpoint Detection and Response
What is Anti Malware Protection?
What is Malware?
What is Malware Scanner?
Best Online PC Scan Tools
What is EDR?
What is SIEM Security?
Inventory Management Software Open Source
What Does Malware Free Mean