Xcitium Dome And WHAT IS INTERNET GATEWAY?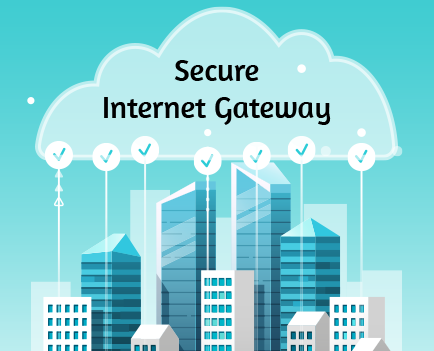 21 Oct, 2022
216 Views





(
1
votes, average:
5.00
out of 5)

Loading...
Internet Gateway could be a connecting hub that inter-connects two networks that implement different rules to communicate.
Internet gateway is where the data halts during the process of transmission to and from the other networks. It can be in the form of a software or a hardware that includes computers or routers to ensure that a range of tasks are performed. Gateways are border-lines for any networks that are integrated with firewall to ensure that the unwanted traffic are restricted from entering the users' network.
For individual users who use computers from home, Internet Service Providers are the considered to be the Internet Gateway as it connects the users to the Internet through their network. When the user uses Wi-Fi to connect to the Internet, modem or the router is the Internet Gateway as it filters out unwanted traffic from entering your private network. The data requests are made to handle by the actual servers by means of a proxy server.
Internet gateways give users a way to communicate through the internet. It helps us to access other networks to carry out online transactions like viewing web pages, uploading or downloading files or even buying things online. It takes control of the path through which the data is sent and received by the user.
Xcitium Dome delivers complete web and email protection against emerging threats by providing a modular Cloud Delivered Secure Web Platform.
Xcitium Dome is a revolutionary Cloud Delivered Secure Web Platform that is delivered as a Security as a Service (SaaS) cloud infrastructure, that incorporates unknown file containment, Advanced Threat Protection, Web Security, Sandboxing, Antispam, DLP, Next Generation Fire-wall, Bandwidth management, and a secure VPN service.
Xcitium Dome: What is Secure Internet Gateway?
Over the last few years, the IT landscape has evolved drastically. As a result, the crucial applications, infrastructure, and data are slowly and steadily moving to the cloud, leveraging either public or private cloud infrastructure. G Suite, Salesforce.com, Box, Office 365, and other software-as-a-service (SaaS) apps, whether approved by IT or not, are mundane in companies of all sizes and industries, even the most extremely regulated ones. With all this happening in the background, it raises questions about how to protect where confidential data is going and how it's being used.
This paved the way for secure web/internet gateway that prevents unsecured traffic from entering an internal network of an organization. The security solution which was originally built to control, secure users and data are now used by enterprises to protect their employees/users from entering and being infected by malicious Web traffic, websites and virus/malware.
DNS Filtering
On the internet, a wide range of threats is just one click away, a wrong move can empty your bank accounts, exposing sensitive information, and your content or computer being hijacked. The creation of dubious websites are equally on the rise in comparison to the legitimate sites, thereby how to stay safe online?
DNS filtering – or Domain Name System filtering helps in blocking access to certain web pages, websites, or IP addresses. Simply put, the DNS technique permits good to remember domain names to be used – such as Wikipedia.com. This eradicates the need for keying in the difficult to remember IP addresses which are numeric. The DNS maps IP addresses to domain names.
Data Loss Prevention
DLP – Data loss prevention ensures that end users do not send confidential data beyond the organization network. It is looked upon as a strategy in the corporate world, and the term data loss prevention may also refer to software product that empowers IT administrators to control the data that end users transfer.
Such software programs deploy a set of rules to segregate and safeguard sensitive and critical information. This helps the corporates in protecting data and prevents unauthorized end users cannot accidentally or maliciously share data. The DLP software products are also referred to as information loss prevention, extrusion prevention or data leak prevention products.
How Internet Gateway work?
An internet gateway is a network point that enables the users to gain access to another network. It acts as the interconnecting node between two different networks. Gateway nodes are computers that take control of the flow of traffic between the networks. Similarly the computers used by the Internet Service Providers to help users connect to each other and perform a transaction are gateway nodes. It also creates a bridge to connect between a telephone network and the internet. Routers are one type of Internet gateway – this is implemented to connect the users' devices with the Internet. Mostly routers that are used for home networks comes with the software that can be installed on the user's computer to ensure connection with other computers. This can also help other user connected to that user's router can connect to the Internet Service Provider. Also the router can be bridged to more than two different networks at a time. Therefore, an internet gateway can be in the form of different types of devices which can ensure interoperability and help connect two or more networks.
Adding Xcitium between your existing infrastructure and the internet couldn't be easier — simply make Dome your next hop to the internet – no appliances or headaches.
Web Firewall
Web Firewall or Web Application Firewall (WAF) is either network-based, host-based or cloud-based that monitor, filter or block data packets as they move to and from a Web application. It is expanded through a proxy and placed in front of one or more Web applications to filter out potentially harmful traffic. The enterprises make use of web application firewalls to stay secure zero-day exploits, impersonators, online attackers, and known vulnerabilities.
Spam Mail Protection
Spam emails are annoying and also dangerous to users – also known as junk email, they are the unsolicited bulk messages sent through email. The spambots are automated programs that crawl the internet searching for email addresses of recipients. Email recipients can use the antispam filter on local email clients or create an email white-list. This includes all of the specific IP addresses or domains, email addresses, the user trusts and is willing to receive the email from.
Features of Xcitium Dome
DOME SHIELD: Xcitium Dome Shield is a Cloud Delivered DNS Based Security as a-Service (SaaS) solution that provides comprehensive domain filtering and granular policies that cover security and category based rules.
WEB SECURITY: Xcitium Dome comprehensively shifts security from the conventional default-allow to our novel Default Deny Platform which facilitates continuous business productivity while safeguarding the users from sophisticated attacks.
Xcitium Dome Features
Valkyrie Cloud-Based Sandbox and File Verdict Platform
Automated unknown File Containment
Real-time Synchronization with Xcitium Threat Research Labs Intelligence
Static, Dynamic and Human Malicious File Analysis
Botnet Protection
Thorough knowledge of known good and bad software vendors and applications for auto-whitelisting
Phishing Protection
Explicit Proxy
PAC Files
ICAP
Proxy Chaining
Advanced Policy Controls
URL Filtering by category

Rethink Your Security and Network Architecture
The Xcitium Dome Cloud Security Platform is totally modular and acts as a highly advanced series of security check posts encompassing Advanced Threat Protection, Web Security, portable
containment, Sandboxing, Antispam, DLP, Next Generation Firewall, and Bandwidth management. Simply choose the modules you require today, and seamlessly add new ones in the future.

Advanced Protection in The Cloud Era
With storage, business applications and services all moving to the cloud, the traditional approach of installing a large centralized web security gateway device and then backhauling all of your traffic from remote offices, devices and users has quickly become exceptionally cumbersome if not obsolete. It makes far more sense to forward traffic to a centralized cloud platform that can provide protection regardless of network origin and
destination.
Xcitium Advanced Containment
Sandboxing is becoming a commonplace security strategy, but it typically hinders business productivity by isolating unknown and suspect files in a state where they cannot be used until after a thorough analysis is complete. Xcitium's unique containment technology is radically different. While Valkyrie analyzes unknown files, users are free to open, execute and use the
files with ZERO risk of infection. Xcitium's containment technology is agentless, extremely lightweight, has no CPU dependencies and is application-agnostic.

Web Security Problem: Solved
Even an advanced web or email content filter with more than 100,000 security updates a day is still going to be hopelessly outmatched against customized malware variants. Unknown malicious
files will still be allowed carte blanche access to sensitive environments in even the best default allow ecosystems. Our modular Dome Cloud Security Platform with unknown file containment and rapid verdict rendering simply makes more sense.
Let us show you how Xcitium Dome protects your network.