WHAT ARE THE COMMON TROJAN VIRUSES?
21 Oct, 2022
650 Views





(
1
votes, average:
5.00
out of 5)

Loading...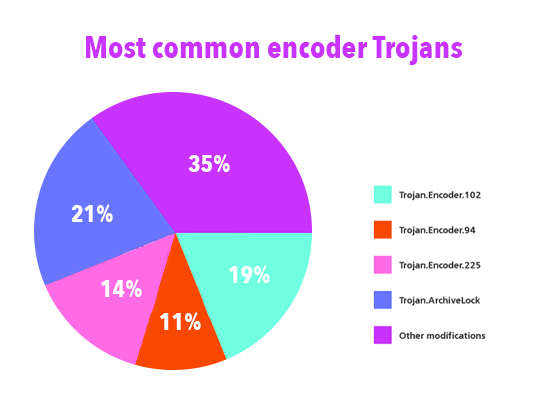 The Greeks created a ginormous wooden horse as a present to appease the Trojans when, in fact, it's actually a secret vessel for Greeks to sneak into the city of Troy. Through that they were able to sneak into the city of Troy. Eventually, they won the war against the Trojans. That's how the Trojan horse virus got its name.
Common Trojan viruses can cause great damages to many individuals and businesses. It's good to know the possible signs of having common Trojan viruses. The common Trojan viruses do the following malicious activities on your computer once you're infected:
Weird Messages and Pop-ups
Do you notice that your computer is showing you all sorts of pop-ups and messages? It doesn't matter if it's an advertisement or a message saying your PC is infected. You can sure now that you starting to feel the common Trojan viruses symptoms. You may have contracted a fake antivirus or a spyware onto your system.
Extremely Slow Computer
If you think that having too many files and running multiple applications all the same time can slow down the computer, it's not the only cause. The common Trojan viruses symptoms can also cause that slowness because it must be using many resources.
Interrupted Internet Connection
One of the common Trojan viruses symptoms is a slow Internet. Many times, you might not be able to connect to it either. When you know that everyone else in the house or office can connect, be warned. That's one of the common Trojan viruses symptoms. When you're infected, the Trojan horse virus could be connecting to a URL or opening separate connection sessions. Because of that, it reduces the available bandwidth or it makes it hopeless to use the Internet.
Unusable Apps
An application you really need isn't working at all after minor troubleshooting must be one of the common Trojan viruses symptoms. Some programs can work but some of your programs is won't. You should go check all of your security tools and system to be sure.
Malicious Windows
Are there unwanted windows and browsers that display pages? This is a strong indication of a common Trojan viruses symptoms. The unwanted redirection of traffic to another deceitful website. This can trick you to use a fake website which you won't notice at all.
Missing Files
This is one of the scariest Trojan horse virus symptoms. Your important files that are missing might have been manipulated by a Trojan virus. The Trojan horse can delete or encrypt information, or move your files to another place. You should be worried when this thing happens to you.
Your Antivirus Gone and Firewall Disabled
It's not only files that can disappear in your computer, your antivirus and firewall functions can be turned off during the common Trojan viruses symptoms. This makes your computer a lot more vulnerable to cyber attacks. A serious computer security issue is already happening and you should react to it quickly.
Language
Your computer language suddenly changed without your knowledge. It's a giveaway common Trojan viruses symptoms. Your screen can also show back-to-front and other strange activities can tell you that you have an infected computer system.
Computer Operating on Its Own
Your computer starts to become a hot mess. You notice that it's sending emails and having Internet sessions on its own. You're definitely experiencing common Trojan viruses symptoms.
SPECIFIC TYPE OF COMMON TROJAN VIRUSES
Given all the abilities of common Trojan viruses, there are also specialized Trojans that is designed for a specific mission. They're executed intelligently to steal, to harm, and to spread more Trojans on your computer system.
| | |
| --- | --- |
| Type of Trojan Viruses | Description |
| Exploit | It contains data or code that abuses a vulnerability within application software that's operating on your endpoint. |
| Backdoor | It gives malicious users remote access over the infected computer. They can do whatever they want such as sending, receiving, launching and deleting files, displaying data and rebooting the endpoint. |
| Rootkit | These are designed to hide certain objects or activities in your system. This can effectively prevent malicious programs being detected. |
| Trojan-Banker | Its purpose is to steal your account data for online banking systems, e-payment systems and credit or debit cards. |
| Trojan-DDoS | This Trojan can start up the Denial of Service (DoS) attacks. Not only it can affect endpoints, but also websites. By sending multiple requests – from your computer and several other infected computers – the attack can overload the target address which leads to a denial of service. |
| Trojan-Downloader | Trojan-Downloaders can download and install new versions of malicious programs onto your computer – including Trojans and adware. |
| Trojan-Dropper | This is used to install Trojans and other viruses into the computer. This can also conceal detection of malicious programs. If you're using a weak or outdated antivirus, some of them can't scan all of the components inside this type of Trojan. |
| Trojan-FakeAV | Trojan-FakeAV programs copies the activity of antivirus software. They are created to extort money from you. In return, they'll remove the detection and threat removal. Even though, the threats that they report are don't actually exist. |
| Trojan-GameThief | If you're into gaming, you know that online gaming can also garner loads of cash. Cyber criminals also crafted this Trojan virus which steals user account information from online gamers. |
| Trojan-IM | If you're fond of using instant messaging programs, this is one of the common Trojan viruses that can take away your logins and passwords. |
| Trojan-Ransom | This Trojan can change data on your endpoint. This can lead to endpoint malfunction. The cyber criminal will demand a ransom. They'll only replace your computer's performance or unblock your data, after you have paid them. |
| Trojan-SMS | It sends out text messages which uses mobile device to premium rate phone numbers. |
| Trojan-Spy | Trojan-Spy programs can spy on how you're using your computer – for example, by tracking the data you enter via your keyboard, taking screen shots or getting a list of running applications. |
| Trojan-Mailfinder | This robs email addresses from your endpoint. |
HOW DOES AEP WORK TO REMOVE TROJAN FROM PC?
Advanced Endpoint Protection uses the Default Deny Platform™ to block bad files and automatically contain unknown files in a virtual container, using containerization technology.
The Xcitium VirusScope technology is used to examine unknown files at the endpoint, for malicious behavior and actions. The Valkyrie provides a cloud-based accelerated verdict in about 45 seconds, based on static, dynamic and even human analyst interaction. Malware files are removed, good files are allowed to run on the endpoint CPU and unknown files are contained in the lightweight virtual container on the endpoint and analyzed in real time.
You can expect Advanced Endpoint Protection to provide a report in a minute. It uses negligible CPU resources and requires an computer footprint of just about 10 MB. The program provides complete security for both physical and virtual computers in all kinds of enterprises. Therefore, you can expect a thorough trojan horse virus protection.
Protect Your EndPoints For Free