How To Fix Malware Infected Computer
21 Oct, 2022
393 Views





(
1
votes, average:
5.00
out of 5)

Loading...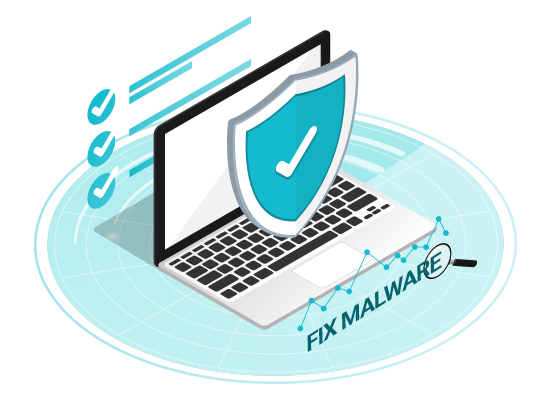 In this day and age malware infections are widespread, and no one can ignore the need for security solutions. Malware can infect any computer from enterprise-class computers with advanced security features to average personal computers.
Since there are a vast number of malware variants surfacing on the Internet each day, you may be the next victim of a well-organized malware attack. Once you identify that your computer has malware or if your computer is showing unexpected behavior, what can you do to fix your computer?
Since there are many variants of malware in existence, it is difficult to precisely pinpoint the specific type of malware that has infected your computer. But, if you are well aware of the specific malware that's hiding in your PC, you can use antivirus software like Xcitium Antivirus to remove it completely from your computer.
Chances are, however, that you will not be able to distinguish the specific malicious program from your system files or programs. If that is the case, here are some of the tips to fix a malware infected computer.
How To Fix Malware Infected Computer: Disconnect your computer from the Internet
Once you are aware of the malware infection on your computer, make sure to disconnect your computer from the internet. Since the attackers may have access to your personal information or may even be using your computer to attack other computers, it is advisable to take your computer offline by disconnecting the internet.
By doing that, you can stop the hackers from accessing your files and other sensitive data on your computer. The best way to do it is to disconnect the internet cable physically, but you can also do it by using the "disable" option on your computer's network connection.
How to Get Rid of a Virus & Other Malware on Your Computer: Back up Important Files
It is advisable to back up your files. If possible, compile all of your data and store them on a CD or DVD or store them on external hard drives. You should also remember that these files cannot be trusted since they are still potentially infected. Backing up your files on a regular basis can save your data even if your computer gets infected with malware.
In an enterprise, malware can wreak havoc on computer systems and may disrupt the entire IT operation. Malware from unknown sources can quickly lead to the downfall of an organization, irrespective of its size. It can considerably harm computer systems and other endpoints if a proper security strategy is not in place or its application is delayed. Organizations should consider using advanced endpoint protection systems to safeguard their entire network.
Xcitium Advanced Endpoint Protection (AEP) is an award-winning enterprise-level security product that offers complete all-around protection against any malware attacks.
How to prevent and remove viruses and other malware: Xcitium Advanced Endpoint Protection includes:
Endpoint Containment Firewall Web Filtering
Antivirus Host Intrusion Prevention (HIPS)
Behavioral Analysis (VirusScope) Valkyrie Cloud-based Static and Dynamic analysis
Specialized Threat Analysis and Protection (STAP)
Xcitium AEP provides complete end-to-end protection across the boundary, internal network, and across endpoints preventing even the most advanced malware, both known and unknown. Try Xcitium Advanced Endpoint Protection today!
Related Sources:
Endpoint Detection
Endpoint Detection and Response
What is Anti Malware Protection?
What is Malware?
What is Malware Scanner?
Best Online PC Scan Tools
What is EDR?
Computer Inventory