Ransomware Prevention
21 Oct, 2022
549 Views





(
1
votes, average:
5.00
out of 5)

Loading...
Ransomware has quickly become the most successful cyber attacks over the last few years. The purpose of ransomware is to extort money from the victims with promises of restoring encrypted data. Like other malware, ransomware usually infiltrates a device by exploiting a security loophole in software or by tricking the user into installing it.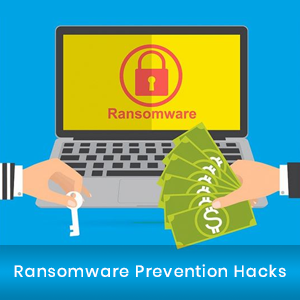 Ransomware can exploit a single vulnerability or multiple vulnerabilities on an IT network to compromise millions of customers' data which are accompanied by crucial financial information. With the sensitive user data being at stake, ransomware affects not only the reputation of the organizations but also their finances.
To better protect computer and corporate-endpoints from ransomware threats, there is dire need to focus more on ransomware preventive measures.
To help you address the growing threat of ransomware, here are some tips for ransomware prevention.
Back Up Your Data Frequently And Consistently
Backups prove to be useful at times of ransomware attacks. By having offline copies of your important files, you can safeguard your precious data from ransomware scams. You can also backup your data in the cloud. This way, you don't have to worry about the threats posed by ransomware.
Educate Employees About Safe Computing Habits
Educate your employees about the ill-effects of ransomware. Along with that, you should train your employees about the dos and don'ts (safe computing habits) in a corporate environment. This will help prevent ransomware attacks or any other form of malware from intruding your endpoint or network.
Educate your employees about popular social engineering tactics used by cybercriminals so that they can avoid falling victim to phishing emails or spoofed messages.
Patch Your Systems and Keep Your Security Software Up-To-Date
Since Windows Operating Systems is the most popular operating system, most ransomware variants are targeted to attack the Windows OS.
If you are running Windows-based systems, accept regular automatic security updates as soon as they become available from Microsoft. Install security patches for all the software installed on your system.
Similarly, keep your security software up-to-date with the latest virus signatures. Most OEMs and security vendors release software patches and updates to catch and stop malware including ransomware before it infects your computer and files. Be sure you are running the most recent versions of Windows OS and security software.
The ever-evolving cyber threats landscape continually presents new challenges. Ransomware is one of those challenges. Even organizations that exercise ideal cybersecurity practices may fall prey to ransomware attacks.
With that in mind, our engineers at Xcitium have deigned Xcitium Advanced Endpoint Protection (AEP). Unlike other endpoint protection software that follows "Default Allow" security posture, Xcitium AEP uses "Default Deny" security posture. Along with it, it uses powerful Containment engine which can quickly contain both known and unknown (new) malicious software including ransomware.
Xcitium AEP is a complete endpoint protection platform that can disarm even the potent malware such as the ransomware. Get Xcitium Advanced Endpoint Protection today and secure your endpoints against ransomware and other malware threats.
For more details about Xcitium Advanced Endpoint Protection, contact us at +1 (888) 551-1531.
PROTECT YOUR ENDPOINTS FOR FREE
Related Resources
Endpoint Detection and Response