Xcitium Advanced Endpoint Protection against Trojan Horse Virus
21 Oct, 2022
373 Views





(
1
votes, average:
5.00
out of 5)

Loading...
Xcitium Advanced Endpoint Protection (AEP) practices Default Deny Platform that checks unknown files. These are isolated in a different container until they are confirmed to be harmless. We call this technology Default Deny Platform coupled with Containerization Technology. It proves extremely helpful in securing enterprise networks against zero-day threats dominating the present cybersecurity threat landscape. Currently, the Xcitium AEP already reached 85 million installs, 1 billion files contained without infection, and 600 thousand clients trusting AEP.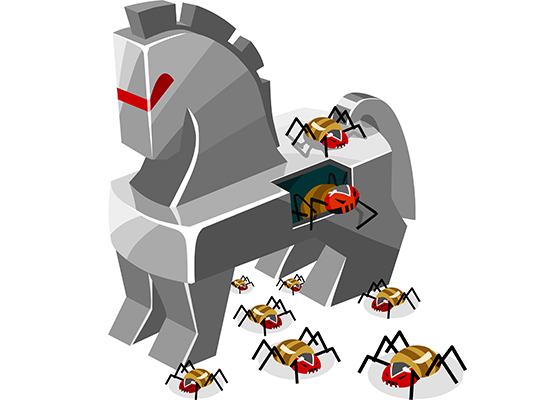 Aside from the Default Deny Platform and Containment, Xcitium AEP comes equipped with the following security features, that make it the best endpoint protection tool in the market. Here are some of its best quality features:
Extensive File/Application List
Backed by Xcitium Threat Research Labs (CTRL), AEP contains the most comprehensive library of all good and bad files just like many of well-known Trojan horse virus which makes it easier to control the unknown files.
VirusScope
This technology, unique to Xcitium, uses behavioral analysis to monitor for malware on local workstations. It restricts malicious-looking files, applications, and Trojan horse virus from contacting the CPU, Memory, Filesystem, Registry or other such crucial elements with your endpoint and thus secures them.
Quick Malware Analysis
With the help of Valkyrie and Human Analysis, it ensures unknown files, applications, and Trojan horse virus are analyzed within a matter of seconds. This accelerated verdict assures enterprise networks are not burdened with too many false positives.
File Integrity Monitoring Software
A sudden change on critical servers signals a breach. Hence, it's important to use File Integrity Monitoring (FIM) for a user's critical servers so the IT security alerted as changes happen. In fact, if those servers are in-scope for compliance, PCI DSS requirements 10.5.5 and 11.5 states a user must install file integrity monitoring software in order to pass a user's audit.
Device Controls
These features ensure enterprises get started with Xcitium AEP easily through security features like over-the-air device enrollment, default profile, policy-based management and also ensures device (and data safety) through features like anti-theft, remote data wipe, data isolation and much more. These features can be used effectively against a Trojan horse virus.
Application Security
Xcitium AEP also ensures application security within the enterprise network through security features like application whitelisting/blacklisting, application inventory, BYOD protection and more.
Host Intrusion Prevention System
HIPS represents a preemptive approach to network security and utilizes advanced techniques to detect and block attempts to breach an endpoint system. It utilizes several advanced techniques to scan network traffic and look for Trojan horse virus patterns in the data. If a possible breach is discovered, HIPS can take several different defensive actions depending on the type and severity of the detected activity. Defensive actions can include alerting the user and/or administrator and automatically dropping suspicious data streams.
Remote Management
Remote Access with full device takeover and other remote management related provisions ensure the smooth deployment and functioning of Xcitium AEP.
Self Protection
As Xcitium Advanced Endpoint Protection (AEP) protects your endpoints against a Trojan horse virus, the AEP application itself routinely comes under attack by malicious applications trying to bypass its protection. Fortunately, Xcitium AEP includes robust self-protection countermeasures that prevent malicious applications from gaining control or circumventing Xcitium AEP services.
Xcitium AEP: Combining EPP AND EDR
Xcitium Advanced Endpoint Protection (AEP) combines both superior prevention with the ability to detect/respond to Trojan horse virus threats as they emerge. Xcitium AEP goes beyond prevention provided by conventional signature-based detection and AV. Xcitium AEP includes multiple preventative capabilities including AV, HIPS, ongoing Artificial Intelligence/Machine Learning monitoring and layers on the ability to manage and monitor endpoints to quickly resolve issues. Advanced Endpoint Protection provides deep visibility into file activity on your endpoints, detecting malicious behavior that other security solutions may miss, and provides you the control investigate, contain and remediate your entire endpoint environment.
Conclusion
The endpoints in an enterprise play a strong part in running the whole business. They're an extension of a business's workforce. The enterprise and its employees can't afford to experience a cyber attack any time of the day. Most especially, that most businesses don't have a choice with the number of emails they receive every day. Therefore, some emails might actually carry a Trojan horse virus.
Get in touch with us for more details and experience the smooth business operations using Xcitium AEP!
Related Sources:
Endpoint Detection
Endpoint Detection and Response
Discover Malware For Free
Trojan Horse Virus Protection