What Is Trojan Virus? How To Protect Your PC(s)?
21 Oct, 2022
493 Views





(
1
votes, average:
5.00
out of 5)

Loading...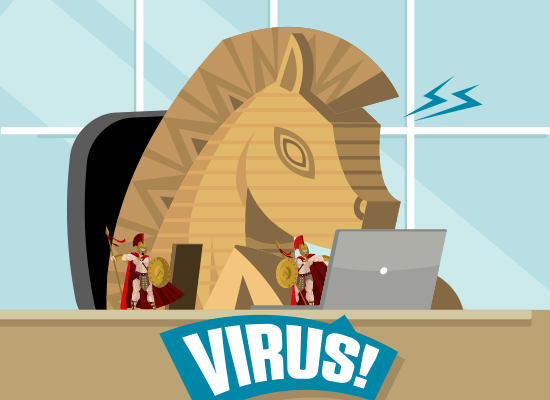 The term 'Trojan horse' is bandied about a lot within the IT security community. Here, let's take a look at what is trojan, how it operates and how it can be prevented.
Trojan horse is a malware which masquerades itself as legitimate software and is widely employed by the hacking community to break into computers usually to steal some sensitive data or to spy on them. Unlike computer viruses, trojan horses cannot self-replicate themselves and spread within a network. They need some form of human intervention (like downloading e-mail attachment) to activate themselves.
Why Is It Called Trojan Horse?
The term 'trojan horse' originates from Greek mythology. According to the mythology, the Greeks, to win the 'trojan battle' made use of a large wooden horse – supposed to be a peace gesture towards the Trojans and troy – to hide thousands of their soldiers, who would later go on to invade Troy overnight and capture it. As this malware is similar to the 'wooden horse' in that it masquerades itself as a legitimate software to deceive users to download them and thereby infects them, it was given the name trojan horse.
Various Shapes Trojan Horses Assume?
Some of the ways in which Trojan horses can affect your PC(s) are:
Backdoors – here the Trojan creates a 'backdoor' on the computer it is infecting and thereby allows the hacker to remotely control it. It could be to steal personal data, modify computer settings with some malicious reason, or to turn the computer into a botnet for a DDoS attack.
Exploits – here the trojan seeks to exploit a security vulnerability existing in one of the software(s) available in your PC(s).
Rookits – here again the trojan enables hackers to gain unauthorized access to user computers.
Trojan-Banker – here the trojan disguises itself as a legitimate banking website to rob users out of their money.
Trojan-Downloader – here, as stated earlier, the trojan disguises itself as a 'legitimate, downloadable software', often enticing users to download it.
And More – just like many other malware, the shapes trojan horse takes is not exhaustive. Some of the others include Trojan-DDoS, Trojan-dropper, Trojan-fakeAV, Trojan-gamethief, Trojan-ransom, Trojan-spy and Trojan-SMS.
Prevent Trojan Horses From Infecting Your PC(s)
How To Protect Your PC(s) From Trojan Horse?
The best way to protect your PC(s) from being infected or attacked by trojan horses is to make use of antimalware or antivirus solutions. A top-notch anti-virus solution like Xcitium Antivirus can stop trojan attacks, while Xcitium Mobile Security (which is available absolutely free of charge) will provide world-class protection for Android smartphones.
About Xcitium Antivirus
Xcitium Antivirus or Xcitium Internet Security suite as it is called comes equipped with impressive security features that make it the best antivirus in the IT security industry. Xcitium Internet Security employs the Default Deny Protection approach – a technology which is unique to Xcitium – in combating, not just trojan horses, but even zero-day malware which poses majority of the security threats today.
Other Features Include:
Firewall: you need an efficient system to monitor or regulate the incoming as well as outgoing traffic from your PC. This can be easily achieved using the CIS's firewall.
Containment: a technology which assists you to run unknown (and therefore risky) applications separately such that they cannot harm your computer.
Host Intrusion Protection (HIPS): malware can do nothing without altering the state of your operating system in some form. With the help of HIPS, you can successfully track as well as monitor all the applications and processes on your computer. And the moment any suspicious activity is detected – be it in system-memory, registry keys or personal data – the root cause of the change will be stopped before it damages your operating system.
Virtual Desktop: when browsing the internet, you give away vital information about your PC which can compromise its security badly. But with CIS, as you'll be subscribing to the services Virtual Desktop, you can freely browse the internet and run programs without any fear of those activities damaging your real computer.
And Much More: Website filtering, VirusScope, Secure Wireless Internet Connectivity (with complete version only), Cloud Backup etc.,
Prevent Trojan Horses From Infecting Your PC(s)
Related Sources:
Endpoint Detection
Endpoint Detection and Response