Free Ransomware Removal
21 Oct, 2022
1485 Views





(
1
votes, average:
5.00
out of 5)

Loading...
Ransomware is a serious threat to your computer and files. It can restrict access to data by encrypting your files or locking your computer screen. It will then attempt to extort money from you by asking for "ransom," usually in the form of crypto currencies.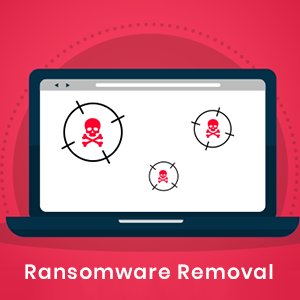 Due to its higher success rate, ransomware is quickly becoming a preferred choice for cybercriminals to extort money from businesses and individuals alike.
Ransomware can get onto your computer by various means, some of the most common ways are through a social engineering tactic or exploiting security vulnerabilities in your computer.
How Ransomware Infects a Computer?
Spam is the most common method used by cybercriminals to distribute ransomware. As mentioned earlier, it is generally delivered using social engineering techniques wherein users are tricked into downloading a malicious e-mail attachment or clicking a malicious link.
The ransomware is usually disguised as a legitimate email attachment and sent to unwary users. If a user opens such email attachments, it can lead to an infection. Another way used by cybercriminals is hiding the ransomware links in a link button or the body of an email.
When clicked, it then redirects the user to a malicious website that leads to an infection. Users should verify the authenticity of any file or email attachments from unknown sources, before opening it.
Another common method used for delivering ransomware is through exploit kits. These are software packages that are specially designed to identify security vulnerabilities in the victim's computer and exploit them to install ransomware.
In this exploit kit type of attack, cybercriminals insert codes on a seemingly legitimate website that redirects victims to a malicious site. Unlike the email spam method, this method doesn't require additional actions from the victim. This method is also referred to as a 'drive-by-download' attack.
Free Ransomware Removal For Individual Users
If your computer gets infected by the ransomware, follow these guidelines to remove it safely from your computer.
Once you are aware of the ransomware infection on your system, make sure to use your computer in Safe Mode. Boot your computer in 'Safe Mode with Networking.' You can do it by pressing 'F8' key when your computer boots.
To remove the ransomware, install a good antivirus like Xcitium Free antivirus. Xcitium antivirus will remove the ransomware using its powerful containment engine, preventing further damage to your computer and other connected devices.
As a precautionary measure, make sure to backup your files regularly. Always use up to date security software (antivirus) equipped with specific anti-ransomware technology.
Free Ransomware Removal For Organizations
Antivirus products are not a viable solution against ransomware. For them, Xcitium Advanced Endpoint Protection (AEP) is the ideal solution. With its powerful containment engine and 'Default Deny' approach, XcitiumAEP provides 360-degree protection against threats including ransomware.
For more details about Xcitium Advanced Endpoint Protection, contact us at +1 (888) 551-1531.
PROTECT YOUR ENDPOINTS FOR FREE
Related Resources
Endpoint Detection and Response