Ransom Virus
21 Oct, 2022
1034 Views





(
1
votes, average:
5.00
out of 5)

Loading...
Ransom virus has caused quite an uproar in the cybersecurity world, due, in part, to the recent WannaCry attack that crippled thousands of businesses. When ransom virus strikes, the number one priority of most users will be to save their data and restore their computers. However, for many businesses, recovering their sensitive corporate data is merely the beginning.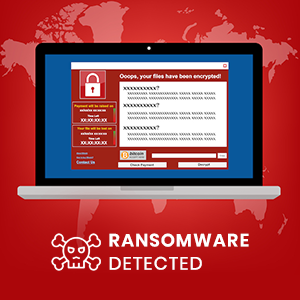 What Is Ransom Virus?
Ransom virus is a form of malware, which infects vulnerable computer systems, preventing the victims from accessing data on that system and in some cases threatening to erase data if the victim does not pay a ransom in a stipulated time frame.
Ransom viruses usually infiltrate a computer when a user opens a malicious e-mail attachment or cloud-based document received from an unknown source. Once triggered (by opening such attachments), the ransom virus will access the computer's (or connected network's) files and holds them hostage. It also gives the attacker (ransomware creator) the ability to view, copy, and delete files on those infected computers.
One typical example of ransom virus is called 'Ded Cryptor' which locks your computer and files until you are forced to pay a ransom. The payment that it demands is two Bitcoins which costs several hundred dollars.
Most Common Forms Of Ransom Virus
Two forms of ransom virus that are the most widely used around the world are Locker and Crypto ransomware.
Locky Ransomware
Locky ransomware locks you out of basic computer functions, forcing you to pay a ransom to regain control of your computer.
Crypto Ransomware
Crypto ransomware encrypts private or confidential data like documents and important files; threating to destroy them unless you pay a ransom.
Tips to Prevent Ransom Virus
Avoid phishing scam that spreads ransom virus by not opening any suspicious emails or links. Avoid visiting any suspicious websites that may contain ransom virus.
Back up your computer regularly and always use up to date security software (antivirus) equipped with specific anti-ransomware technology.
Xcitium Advanced Endpoint Protection (AEP)
In recent times, ransom virus attacks are on the rise globally. Hackers are spreading new variants of powerful ransom viruses to infect multiple endpoint devices. Not only have we seen an increase in Ransomware attacks, but the level of sophistication in such attacks have also increased, as well.
For such scenarios, Xcitium Advanced Endpoint Protection (AEP) is the ideal solution as it provides complete protection against any malware attacks including ransomware attacks and zero-day attacks. All thanks to the built-in containment engine of Xcitium AEP, any unknown files including unknown malware gets automatically contained in a secure virtual environment.
As always, prevention is better than cure. If you have a good security solution and run frequent backups, you shouldn't have any problems.
For more details about Xcitium Advanced Endpoint Protection, contact us at +1 (888) 551-1531.
PROTECT YOUR ENDPOINTS FOR FREE
How To Protect Yourself Against Ransomware
Related Resources
Endpoint Detection and Response