How to Protect Yourself From Ransomware
Protecting yourself against ransomware is vital today. Why? Because Ransomware Attacks continue to proliferate.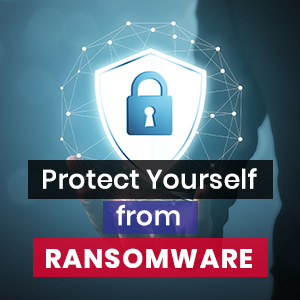 This 2018, ransomware damage is expected to cost more than $8 Billion. In 2019, ransomware attacks are more likely to increase according to SophosLabs. This implies that ransomware is a serious threat and you have to protect yourself from ransomware to avoid loss of valuable data and files.
A ransomware is a devious malware that continues to threaten consumers and big organizations. It remains one of the biggest threats across the globe. Once it finds system vulnerabilities, it exploits it to infiltrate the computer and the entire network.
For example NotPeya and WannaCry Ransomware exploit EternalBlue, while the newly discovered JungleSec Ransomware exploits IPMI vulnerability. One way to protect yourself from ransomware is to avoid running outdated software by installing a patch. But is that enough to completely protect yourself from Ransomware?
Up to date, Cybercriminals are developing innovative techniques that convince the users into installing malware without a question. This is usually in social engineering forms. It seems that hackers have mastered the art of manipulation. By sending users emails that look legit and inserting fake downloads on legitimate websites, users install malware on their devices without their awareness.
It's the antivirus' job to secure the computer by scanning applications and drive-by-downloads that reach the computer. However, ransomware is becoming more advanced. Now, fileless ransomware is starting to infect networks and computers.
Fileless ransomware can evade the detection of traditional antivirus because it directly attacks the computer memory so it is invisible in the file system. So when the antivirus scans the hard drive folders, it will never be found there. This is the new age ransomware.
If sophisticated ransomware can get past an antivirus software, what else must be done to protect yourself from ransomware attack?
An antivirus software is just the first line of defense against ransomware. Which means that it can detect known threats but new age cyber threats may go undetected. Multi-Layered security is essential to protect yourself from advanced ransomware attacks.
A multi-layered security software consists of multiple malware scanners that even an advanced type of ransomware is less likely to bypass it. It's best to protect yourself from ransomware with multi-layered security.
Since hackers breach into network security by exploiting vulnerabilities on the endpoint devices, it's better to secure the endpoint devices as well. Endpoint devices are often vulnerable to phishing emails, links, and infected downloads. Once the ransomware infects any of the endpoint devices, soon it will infect the other devices and the entire network too.
Comodo Advanced Endpoint Protection
Comodo Advanced Endpoint Protection is the new generation security solution that combats advanced cyber threats such as fileless ransomware and more. In the recent 2018 Cybersecurity Excellence Award, it was named the Best Ransomware Protection because of its Default-Deny feature.
Comodo Advanced Endpoint Protection is the first central security software to use Default-Deny Technology to protect the network and endpoint devices against suspicious files.
While other security solutions only have Default-Allow that leaves a window for malicious software to invade the computer, Comodo Advanced Endpoint Protection prevents malware infection by containing suspicious and unknown applications in a virtual container. So when an unknown file enters the computer, it is examined thoroughly in the container to verify if its safe or malicious.
Comodo Advanced Endpoint Protection renders equal protection to the endpoint devices. Be it a laptop, tablet, smartphone, desktop, and other IoT devices, they're constantly monitored by the security software installed on the main server.
Hackers target employees today because they know that if they can infect the endpoint device of the internal user, they can hack the entire network. So to protect yourself from ransomware and the entire network, don't leave the endpoint devices vulnerable.
Another way Comodo Advanced Endpoint Protection secures the endpoint devices is through HIPS or Host Intrusion Prevention System. If hackers designed fileless ransomware to directly attack the computer memory so that it leaves no trace of its execution, Comodo designed Host Intrusion Prevention System to defend the computer memory against fileless malware such as fileless ransomware.
It particularly monitors the COM interface and registry so that fileless ransomware can never write its script in the registry. Fileless ransomware can never evade the detection of Comodo Advanced Endpoint Protection.
Click here to download Comodo Advanced Endpoint Protection for free and join the 85 million endpoint devices worldwide that Comodo Advanced Protection has been protecting!