Advanced Endpoint Protection – Top 3 Cutting-Edge Tools
21 Oct, 2022
430 Views





(
1
votes, average:
5.00
out of 5)

Loading...
Simple endpoint protection cannot withstand the onslaught of present-day sophisticated malware. Most endpoint protection tools follow antiquated signature-based malware detection methods. This blacklisting approach does have benefits – however, it is limited and is able to detect only a small fraction of malware. Virus databases store the signatures of the viruses, and when the endpoint security solution encounters the file (process or executable-PE) it compares the signature of the new file with definitions in the database. If a match is found then it is considered as malware. Every day thousands of new malware are released in the wild. And many are just variants of known malware. These are not detected as malicious files and hence are allowed complete access to system files.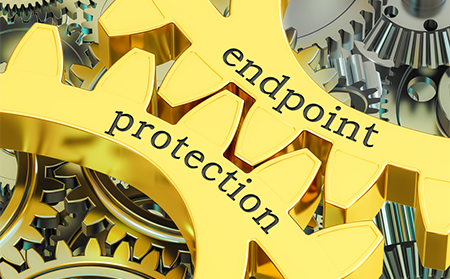 Endpoint Protection solutions usually have behavioral analysis tools. It is only when malicious behavior gets detected that the administrator gets alerted about the presence of malware. And by that time the damage would have been done.
There are cutting-edge tools that employ other methods to overcome this vulnerability. Apart from proactive monitoring and looking for odd behavior or specific activities to provide endpoint protection they also examine individual processes, detect intrusion and network intrusion attempts, and contain unknown files.
The following are the top 3 cutting-edge endpoint protection solutions.
1. Xcitium Advanced Endpoint Protection (AEP)
Xcitium Advanced Endpoint Protection (AEP) provides proprietary hour-zero containment technology by mitigating risk through confidentiality, integrity, and availability, all without compromising performance or productivity. It leverages threat intelligence gathered from Xcitium's 85 million endpoint network.
Xcitium AEP features true default deny security with default allow usability which gives every file a definitive verdict of good (benign), bad (malicious), or unknown (to-be-determined). It allows only the good files to run unfettered on networked enterprise systems. It effectively protects enterprise endpoints against known malware, unknown files (which could be zero-day malware), and advanced persistent attacks.
Xcitium AEP's Automatic Containment™ contains all unknown executables until they are identified as safe to use. Xcitium's Specialized Threat Analysis and Protection (STAP) is a local and cloud-based engine that provides an Accelerated Verdict. VirusScope (the local engine) analyzes application behavior and actions running inside or outside of containment while Valkyrie (cloud-based engine) provides static and dynamic malware analysis in as little as 30-45 seconds. Xcitium AEP utilizes just 20 megabytes of RAM and does not tax the resources or affect productivity. It is the only AEP that provides effective protection against zero-day attacks and unknown files.
2. CounterTacktack Endpoint Threat Platform (ETP)
Counter Tacktack ETP combines Endpoint Detection & Response (EDR), incident response, forensic investigation, machine learning, and dynamic, behavior-based preventative controls to counter advanced threats to enterprise security. It is built on one single, powerful endpoint security sensor to detect, prevent, analyze and remediate threats.
The multi-technique detection, prevention, and response, along with a technique that is superior to signature-based detection ensure intelligent endpoint security for the enterprise network. ETP leverages Digital DNA (DDNA) for enhanced threat detection, and to help hunt threats in memory. It helps predict the way threats will enact their malicious action. DDNA functions as a critical forensic layer in countering and neutralizing advanced attacks at the binary level. Comprehensive dashboard capabilities provide real-time visibility into threats, and exposes threat paths.
3. CrowdStrike Falcon Endpoint Protection
CrowdStrike Falcon is a cloud-delivered Endpoint Protection solution that combines next-generation antivirus, endpoint detection and response, IT hygiene, 24/7 threat hunting and threat intelligence to provide continuous breach prevention through a single lightweight agent. It delivers real-time protection and visibility.
Falcon Prevent is a next-generation antivirus solution component that protects endpoints against all threat types — known and unknown, malware and malware-free. It features sophisticated machine learning-driven malware protection, signature-less malware protection, prevention of zero-day exploits, ransomware, and privilege escalation.
Falcon Insight is CrowdStrike's endpoint detection and response (EDR) solution that helps uncover attackers. CrowdStrike's Managed Threat Hunting solution – Falcon OverWatch – is a dedicated team that works 24/7 to proactively identify attacks to defeat sophisticated adversaries attempting to breach the enterprise network.
CrowdStrike's Falcon Discover is a security hygiene solution that provides complete, detailed visibility of their environment. It enables real time identification of unauthorized systems and applications, and allows users to implement necessary remedial measures to enhance their overall security.
CrowdStrike Falcon Endpoint Protection also includes a cyber threat intelligence solution – Falcon Intelligence which tracks global adversary activity. It helps understand adversary motives, anticipate possible actions, and then implement necessary measure to prevent them from breaching the enterprise network.
Comparing the above three top products, it is seen that Xcitium AEP provides the best protection from unknown files (which could be zero-day malware) through auto-containment.
Related Sources:
Endpoint Detection
How to Get Rid of Malware?
What is a Keylogger?
What is a Trojan Virus?
EDR Security
Zero Trust Solutions