Free Anti Ransomware Software 2023
21 Oct, 2022
367 Views





(
1
votes, average:
5.00
out of 5)

Loading...
Imagine this situation: You open an e-mail in your inbox that seems to come from a reputable Bank, prompting you to click on a link to reset your banking account password. But when you click, a malicious .exe file downloads and launches. Gradually, all the files on your computer turn into strange icons, and all your files names turn into unknown characters.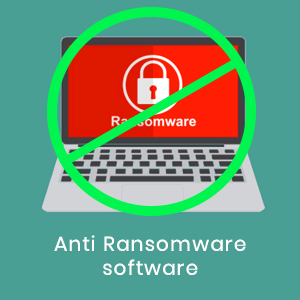 If you are in such a situation, you've probably fallen victim to a ransomware attack.
Since the onslaught of WannaCry ransomware attack that crippled thousands of businesses in 2017, ransomware is continuing to hit businesses and organizations the world over.
What is Ransomware?
Ransomware is a group of malware or scareware that prevents victims from accessing their computers and demands a ransom to regain access. Some of the most dreaded ransomware variants include WannaCry, Petya, Cerber, Locky, and CryptoLocker.
The premise of ransomware is simple. The cybercriminal behind the ransomware finds a security loophole (vulnerability) in one of your systems or software and exploits it by encrypting your files- demanding payment for decrypting your files.
Identifying Ransomware
Ransomware usually comes in two types. The first type encrypts the files on the victims' computers or networks; the second type locks the victims' computer screen. Some ransomware variants such as the WannaCry ransomware will also act as a computer worm. They spread to other computers on the victim's network without interaction by the cybercriminal or the victim.
The scale and automated nature of ransomware make it profitable through economies of scale. Ransomware attacks are cyber attacks of opportunity; they are not generally targeted at specific individuals or computer systems. It can infect any sector or organization.
Usually, if an organization gets hit by Ransomware, they will have no problem realizing the infection. Infected computer systems and other endpoints will be inaccessible because critical files would have been encrypted, with a ransom note displayed on-screen.
Most ransomware variants pop up a pay page (ransom), either in a text editor or on a web browser. But many ransomware variants tend to change the desktop wallpaper to a graphical image of the ransom pay page.
And sadly, the first sign of ransomware intrusion may already be too late, especially if ransomware has spread network-wide and the cybercriminals have hijacked every endpoint.
Protect Your Computer Systems and other Endpoints With Free Anti Ransomware Software
The first step in ransomware prevention is to have an excellent endpoint protection system—a cybersecurity program with real-time protection against advanced malware attacks such as ransomware. For organizations that struggle to cope with today's dynamic threat landscape, Xcitium Advanced Endpoint Protection (AEP) would be of great help.
Xcitium AEP features Containment engine and 'Default Deny' approach that shields vulnerable programs from threats (an anti-exploit technology) as well as block ransomware from holding files hostage (an anti-ransomware component). Customers who were using Xcitium Advanced Endpoint Protection (AEP), for example, were protected from all of the major ransomware attacks of 2017.
Why Xcitium Advanced Endpoint Protection (AEP)?
Xcitium VirusScope technology analyzes unknown files (potentially malicious) at the endpoint. Xcitium Valkyrie provides a verdict based on static, dynamic and human analyst interaction within 45 seconds. Malicious files get removed while good files are allowed to run on the endpoint. The unknown files are allowed to run in a lightweight virtual container on the endpoint and would be subjected to real-time analysis.
For more details about Xcitium Advanced Endpoint Protection, contact us at +1 (888) 551-1531.
PROTECT YOUR ENDPOINTS FOR FREE
Related Resources
Endpoint Detection and Response