Types of Certificates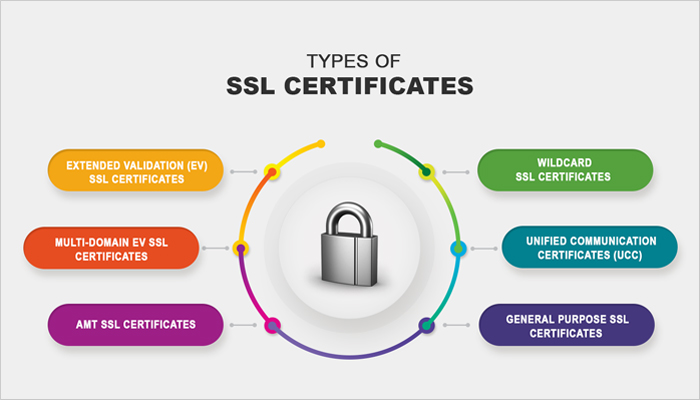 21 Oct, 2022
223 Views





(
1
votes, average:
5.00
out of 5)

Loading...
Get enterprise pricing on our certificates or a demonstration of Xcitium Certificate Manager (CCM). Contact us
Extended Validation (EV) SSL Certificates
For e-commerce applications and sites where sensitive information is exchanged, EV SSL certificates deliver the highest level of trust to website visitors. With EV SSL certificates, a visitor's address bar will turn green and display the organization's name and location confirming the site's identity along with the Certificate Authority (CA) doing the verification according to standardized industry guidelines established by the CA/Browser Forum.
Multi-Domain EV SSL Certificates
For enterprises and organizations looking to cost-effectively secure multiple websites with EV SSL, the highest levels of security. Multi-domain certificates expand the value of EV by allowing businesses to secure up to 100 distinct domains on a single certificate – greatly simplifying SSL management processes and delivering substantial cost savings versus individual EV certificate purchases.
Wildcard SSL Certificates
For organizations hosting a single domain name but with different subdomains (e.g., secure comodo.com, www.xcitium.com, accounts.comodo.com), the Wildcard Certificate is cost effective and efficient means of securing all subdomains without the need to manage multiple certificates.
Unified Communication Certificates (UCC)
For Microsoft Exchange 2010 and Office Communications Server 2007, a single UCC/SAN Certificate can cover many different domains. Built for these Microsoft environments, UCC simplifies the process of configuring SSL security and provide SSL support which traditional or Wildcard SSL certificates cannot do.
AMT SSL Certificates
For use with PCs based on Intel® vPro™ technology based computers to provide secure, remote system management. Intel® has embedded Xcitium's public root certificate into the firmware of the Intel® vPro™ platform. With an AMT certificate on their setup and configuration server, IT departments can now create a trusted and secure connection to their user's machines.
General Purpose SSL Certificates
For securing web sites, these standard SSL certificates provide SSL encryption plus traditional validation/vetting. These organizationally validated (OV) certificates include an organization's name and location on the certificate.
Personal Authentification/Email Certificates
Xcitium Personal Authentication Certificates (CPACs) allow you to add security to your emails and documents and help you authenticate yourself to online services. For businesses and organizations requiring assurance that email cannot be stolen or modified in transit, Xcitium E-mail Certificates secure email by digitally signing and/or encrypting it. It allows users to use the digitally sign and encrypt features built into their personal email client such as Microsoft Outlook or other S/MIME compliant software.
Xcitium Secure E-Mail software works with your email client to automatically sign and encrypt outgoing email, as well as eliminate the complexity of the certificate exchange procedure among users.
Mobile Certificates
Xcitium Mobile Certificates are the fastest, most secure method for securing bring your own device (BYOD) connectivity without the cost and complexity of installing agent software on employee mobile devices. Deploy and manage mobile certificates with CCM. CCM provides for the rapid deployment of BYOD security, trust and regulatory compliance. By taking a holistic approach to mobile certificate management, the Xcitium system is able to easily audit provision, track, purchase, and deploy mobile certificates – all from this single, easy-to-use console.
Next Steps
For enterprise pricing on our certificates or a live demonstration of CCM please contact us.
Download our white paper on CCM.
If you are interested in purchasing our certificates at retail pricing, please visit EnterpriseSSL.com.
Related Sources: