How to Avoid Ransomware Virus
21 Oct, 2022
671 Views





(
1
votes, average:
5.00
out of 5)

Loading...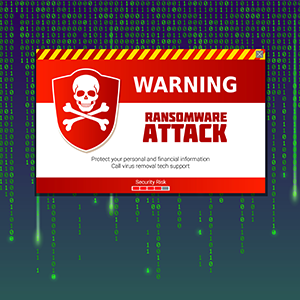 A ransomware virus is an advanced cyber threat that locks down your data or computer system. It will just take over the computer and show you a ransom note on a locked screen. Ransomware can infect your computer anytime, so proper knowledge on how to prevent ransomware virus is something you need to arm yourself with.
Ransomware creators use social engineering methods to exploit a potential victim.
When a victim falls for the ploy, the hacker makes the victim download the virus unintentionally and then a ransomware attack occurs. The malware then uses a military-grade encryption algorithm that prevents computer users to decrypt the infected data on their own.
Part of being a responsible network user is knowing all necessary information you can get to protect your device and all data saved in it. Luckily, there are certain precautions you can take to defend yourself against any possible ransomware attack.
Here are a few tips to remember on how to avoid ransomware virus:
Avoid Ransomware
Tip 1: Improve your Security Settings
The first tip on how to delete ransomware virus is to check your computer's security settings. Limit the administrative privileges of certain software that you don't regularly use. Also, adjust your browser's privacy settings to further increase security. You can also install an ad-blocker extension to your browser to block potentially malicious ads (a.k.a. malvertising) from infecting your device.
Tip 2: Always Update Software
Never forget to update your software and operating system. Ensure that your computer is always upgraded to the latest patches and updates. Usually, developers regularly release updates so always be active in updating your software and OS. If possible, allow your software and OS to be automatically updated once developers release the packages. This tip on how to avoid ransomware is a must because outdated software is a common entry point for a ransomware virus.
Tip 3: Proper Online Behavior
Observing proper online behavior is an effective way to master to prevent ransomware virus. Ransomware creators have become more sophisticated and make their current attack methods more difficult to detect, especially by users who lack proper cybersecurity knowledge. A common method used by ransomware creators is spam email campaigns. These emails contain malicious links and file attachments that can inject the ransomware virus to the computer once clicked.
Another method ransomware creators use are directing potential victims to compromised websites. This method begins when a victim clicks a malicious ad placed on a legitimate website. This ad will direct the user to a compromised website where a hidden ransomware virus is present.
Being cautious about your online behavior is really effective to avoid ransomware virus. Always remember to not just click any link or file attachment. Be vigilant as well in clicking ads on any website to not get yourself into a situation where a ransomware virus has successfully infected your computer.
Tip 4: Security Software
Having a security software that can protect you from any malware attack is an effective way to prevent ransomware. Choose a security software tool that can identify and detect unknown and malicious files on your computer. It must be able to delete all discovered threats immediately and permanently.
The security software that you should choose must be able to provide you with real-time protection. That way, you can be confident that you have an extra layer of protection set on your device.
Tip 5: Regular Backup Routine
Lastly, have a backup copy of your data (especially the most important files). You must back up your files regularly. You can do this either by using cloud services platforms (Google Drive, DropBox) or external drives (portable HDD).
This tip might not prevent ransomware virus from infecting your computer, but it can make a ransomware attack much less significant. Remember that your files are the targets of the ransomware creator, so if you have a backup copy of your data, then there's less to worry about. You just need to do the proper method on how to eject the ransomware out of your computer and copy the backup files to your now ransomware-free device.
Taking necessary measures on how to avoid ransomware virus is a must to save yourself from any trouble losing your files can bring. Practice comprehensive security measures on your computer now to prevent ransomware creators from finding a vulnerable spot on your computer system.
Free Forensic Analysis                                          Get Free Trial Now!
How To Remove Ransomware Virus
Related Resources
Endpoint Detection and Response