Ransomware Protection Software for 2023
05 Jan, 2023
10086 Views





(
1
votes, average:
5.00
out of 5)

Loading...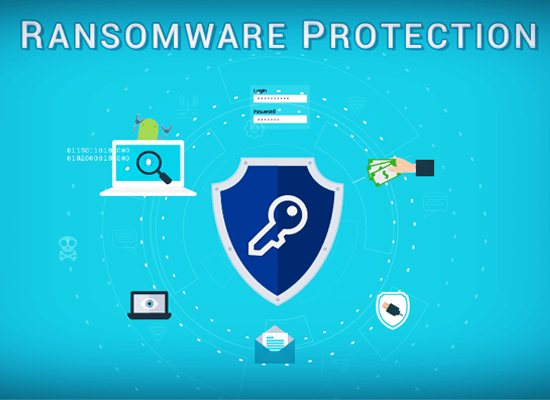 The effects of the ransomware to every business is devastating and costly. According to Microsoft, the potential cost of cyber-crime to the global community is a mind-boggling $500 billion, and a data breach will cost the average company about $3.8 million. If one computer is infected, it could spread all over the network. Which is why ransomware protection software is essential. Once a computer is infected with a ransomware, it will be locked. All files on your computer will be encrypted. Then it will demand you to pay for the ransom or else all of your files will be deleted.
But if you have ransomware protection tools, you will be assured that you are safe against these threats. Having this kind of application is easy. There is free ransomware software that can be downloaded over the internet. You just have to select the legitimate one. When you want an additional feature, that's the time you need to purchase the software for an upgrade. The good thing is that you enjoy the benefit of being secured with just a free copy.
Advantages of Ransomware Protection Tools
Aside from protection it gives, there are a lot of benefits that you can get by having a ransomware security software.
System Security
New strains of ransomware keep on innovating and upgrading. If you are using traditional ransomware removal software, most probably, you won't be able to detect new strains of ransomware. It is because the traditional software uses a signature-based detection while the new strains of ransomware are changing its behaviors. This makes it hard to detect. But if you have the latest ransomware software like Xcitium Advanced Endpoint Protection, you will not have any problem. This security software uses a behavior-based detection that guarantees you for any strains of ransomware will be detected.
No Downtime
The effect of the ransomware attack is much more disastrous than during the infection. You need a lot of time and effort to restore things in proper. You also need to make sure that after you restore the system and the files, there are no remaining traces of the Ransomware. With the help of the ransomware security software, you will be assured that the process of system restoration is in proper and secured.
Easy Deployment
Being protected is very easy using ransomware removal software. This software is convenient to download from the internet. You just need to make sure that the website you are accessing is legitimate to be able to get the appropriate ransomware software. Usually, this software is easy to use and doesn't require in-depth technical skills to install and run the utility. It can be installed on different computers, it can be in a server or any workstations in the office.
File Recovery Provide
A ransomware security software is a big help in recovering all infected files in your computer. Some ransomware protection has a built-in recovery tool that enables you to recover any deleted files made by the ransomware. When it is recovered, you are also assured that all recovered files are free from any strains of ransomware.
Alerts
If you installed ransomware removal software, it can automatically give alerts of any possible activity done by a suspicious software in your system. If there is a potential ransomware running, you will be notified. That way, you can easily clean or delete the malicious file in your computer.
Built-in Backup Tool
Some of the ransomware software has included a ready-made backup utility that you can use to plan and schedule your backups. This way, you are assured that your backup is clean and the data is credible. Having a backup is a better way of combating the ransomware. In doing your backup, always make sure that you have two copies of backup. One is in local network backup and the other one is in cloud storage or offsite backup.
Cleaning Utility
Another great feature of ransomware removal software is the ability to clean any infected files in your computer. Sometime, you can't avoid the infections. But with the help of this software, you will be able to easily clean any infected computer and avoid the infection from spreading to other computers in the network.
How to Protect Your PC from Ransomware Attacks
The internet is now the ubiquitous enabler of work, simpler communication and even learning. As more and more people and organizations rely on the internet to achieve their day to day goals, the more they are exposed to cyber security risks.
Among the many cyber security risks, one of the most dangerous is ransomware attacks. Ransomware is a malicious software that will inhibit access to your device or files until you pay a ransom fee. Over the years, there has been numerous ransomware attacks on both personal computers and even in large companies' computer systems.
Here are some strategies on how to protect your computer against ransomware attacks.
Do not click on unchecked attachments on unverified email
Ransomware infection on computer systems and personal computers often occurs when we download unchecked PDF attachments from unknown and unverified emails. This is the most common way of getting your computer infected with ransomware.
It is therefore important to ensure that before we download any email attachments, they are well scanned for malware and they are from well-known sources.
Invest in trusted security technology
High quality internet security software is the ideal solution to protect against ransomware infection.
Ensure that you have the latest ransomware security software installed in your computer. This ensures that it is able to counter as many known ransomware samples that may infect your computer. They are able to detect and block any ransomware that you may be exposed to before it infects your computer.
Update your operating system
Another beyond any doubt way to protect against ransomware, is to ensure that your operating systems are continuously updated. Enable your operating framework to update automatically if you cannot keep up with the updating schedules from the operating system developer. Utilizing old versions of working systems leaves your computer vulnerable with various security gaps that malware developers can take advantage of to infect your computer. Having an updated operating system is the most excellent ransomware security.
Backup your files and information
Ransomware attacks encrypt your file and lock you out of your device until you have paid the ransom fee. When you have backed up your data, you are sure that any ransomware attack on your computer will not have any impact on your work. You will have full access to your work as you go about remediation of malware from your computers.
It is also important that you have the requisite ransomware security backup by using credible and reputable cloud backup service providers.
How to respond to ransomware attacks
Do not pay the ransom
As with terrorists, the FBI advises individuals and companies faced with ransomware attacks not to pay the ransom. This is because, paying the ransom does not guarantee that you will receive access to your device and your data. It is therefore better if you adopted ransomware security strategies prior to an attack than having to react after the fact.
Get of the internet
The best ransomware protection for business when you are sure that you have been infected with any of the known or unknown ransomware samples, is to get the infected computers of the internet and off the business network. This ensures that you protect the rest of the network that is not infected from the ransomware.
How to Remove Ransomware from Your Computer
At this point, you need an expert at ransomware security to help you get the ransomware out of your network and computer. An expert will help you to identify the type of ransomware sample that has attacked your computer. Once this is identified, your security expert is able to select the appropriate decryption tool to use to burst open the encryption on the ransomware.
Restore your backed-up files
This is where your ransomware protection backup comes in handy. Once your computer and networks are cleaned off the ransomware, they are now available for use. Your backed-up files can now be downloaded into your computers or network ready for use.
Best ransomware security for business ensures that there is business continuity after the ransomware threat is eliminated. Backing up files is great strategy for businesses to adopt in their protection against ransomware threats that may affect the business.
Preventing Infection Through Ransomware Protection Software
Securing the files in your computer is very important. Every business should always protect their data against any virus or malware attacks. Having a ransomware security software like Xcitium Advanced Endpoint Protection will serve as a first line defense in preventing ransomware threats entering your system. Download a free copy now!
Best Ransomware Protection Software for 2023
Xcitium Ransomware Protection
Xcitium Forensic Analysis provides free ransomware protection for your website and entire business network. It has superior capabilities to analyze and identify both viruses and ransomware that could be attacking your network and website.
Its top feature is that it is a free product suitable for both enterprises, individuals and small businesses. It also consumes minimal resources in your network. It also is a superior antivirus with advanced scanning capabilities
To stamp its superiority, you can also add on to it the Xcitium Anti-spam that protects your network and website from malicious spam links which are a leading cause of ransomware attacks. You can also add on the Xcitium Dome which is a security firewall and a Trojan virus removal solution.
Bitdefender Antivirus Plus
Bitdefender is a popular and highly rated antivirus. It is loved for its reliability and accuracy in virus detection. Further, it has superior web filtering capabilities that prevent access to malicious and dangerous sites. It secures your browser with anti-phishing capabilities and has superior password management capabilities. It also contains superior multi-layer ransomware protection capabilities.
Check Point Zonealarm Anti Ransomware
This is another ransomware protection that anyone can use. It is a multi-layer ransomware detection and prevention. It analyzes any suspicious files, links and activities. Once it identifies malware and viruses, it blocks them from accessing your files. For files that have already been infected and encrypted, Check Point ZoneAlarm Anti Ransomware is capable of purging the ransomware and restoring them to their original status.
It also works well in collaboration with other antivirus software.
Kaspersky Free
Kaspersky is a well-known and powerful anti-virus. Kaspersky Free, is available for free to individuals who want to protect their computers from all types of viruses. It protects against all types of viruses and blocks you from accessing unsafe websites that could lead to infecting your computer with malware and ransomware.
Acronis Ransomware Protection
Available for free, Acronis Ransomware Protection is a superior AI based ransomware protection software. It is a multi-layer ransomware protection software that works well with other protection solutions used. Loved for its ease of use, it checks your computer and systems in real time and prevents ransomware infection and with a pop-up message, informs you of the attack.
It also provides 5GB free secure cloud storage space where you can back up your important files and documents.
NeuShield Data Sentinel
NeuShield Data Sentinel is a superior file and systems recovery tool. If your computer or business systems have been infected by malware or ransomware, this is the tool you use to avoid paying your ransom or losing time and revenue.
It is capable of restoring your files and disks that are encrypted by malware. It also removes screen-blocking malware enabling you to get back to work quickly after an attack.
A major downside to its use, is that it will only recover information that was saved 24 hours prior to the encryption attacks.
Emsisoft Anti-Malware
Emsisoft Anti-Malware is an effective deterrent of malware and ransomware. It prevents phishing and keylogging hackers from accessing your computer, keeping you and your information safe. It protects PC and enterprise systems.
It also has a cloud console that enables remote management.
Sophos Home Premium
This is a paid for ransomware and malware protection, detection and blocking tool. It will protect your PC from e-mail spam that delivers malware and is a good anti-phishing security tool. It detects and removes junkware and any other unwanted and unsafe software in your PC.
It is light and thus quite easy to download and configure to meet all your PC protection needs. It is also affordable compared to other premium anti-malware tools.
Heilig Defense RansomOff
This is a superior and complex anti-ransomware tool that will have your systems protected at all costs. It has superior malware and ransomware detection capabilities. This ensures that your system is protected before the malware gets to destroy and encrypt all your files. It is also able to restore your files that if any are compromised.
On the downside, this software will flag all files that it does not recognize whether they are legitimate or not. One needs to whitelist, all the files that are not malware when using this tool.
Panda Dome Advanced
Is an advanced ransomware protection tool. It protects against viruses and scans and detects viruses and malware in external devices used on your computer. It also ensures that you are protected while working over Wi-Fi. With other features such as VPN and parental online controls, you are sure that all your personal data is well protected.
Compared to other malware protection tools with its capability, its price is on the higher end of the scale.
Trend Micro Ransom Buster
This is an effective ransomware protection tool. It also protects your documents by allowing only authorized access. With automatic updates, it detects all types of malware for efficient protection. This superior threat protection is available to you free of charge.
Conclusion
The best ransomware security is to ensure that you protect your computers and networks before any ransomware infection takes place. Implementation of ransomware security strategies saves businesses money and time. It is advised for individuals and businesses to be proactive rather than reactive when it comes to dealing with ransomware threats and attacks.
Related Sources:
Endpoint Detection
Endpoint Detection and Response
Trojan Virus
PROTECT YOUR ENDPOINTS FOR FREE
Ransomware Protection Software Tool